🏀 Sports Betting
There's no "house", "bookmaker" or "sportsbook" which bets against you.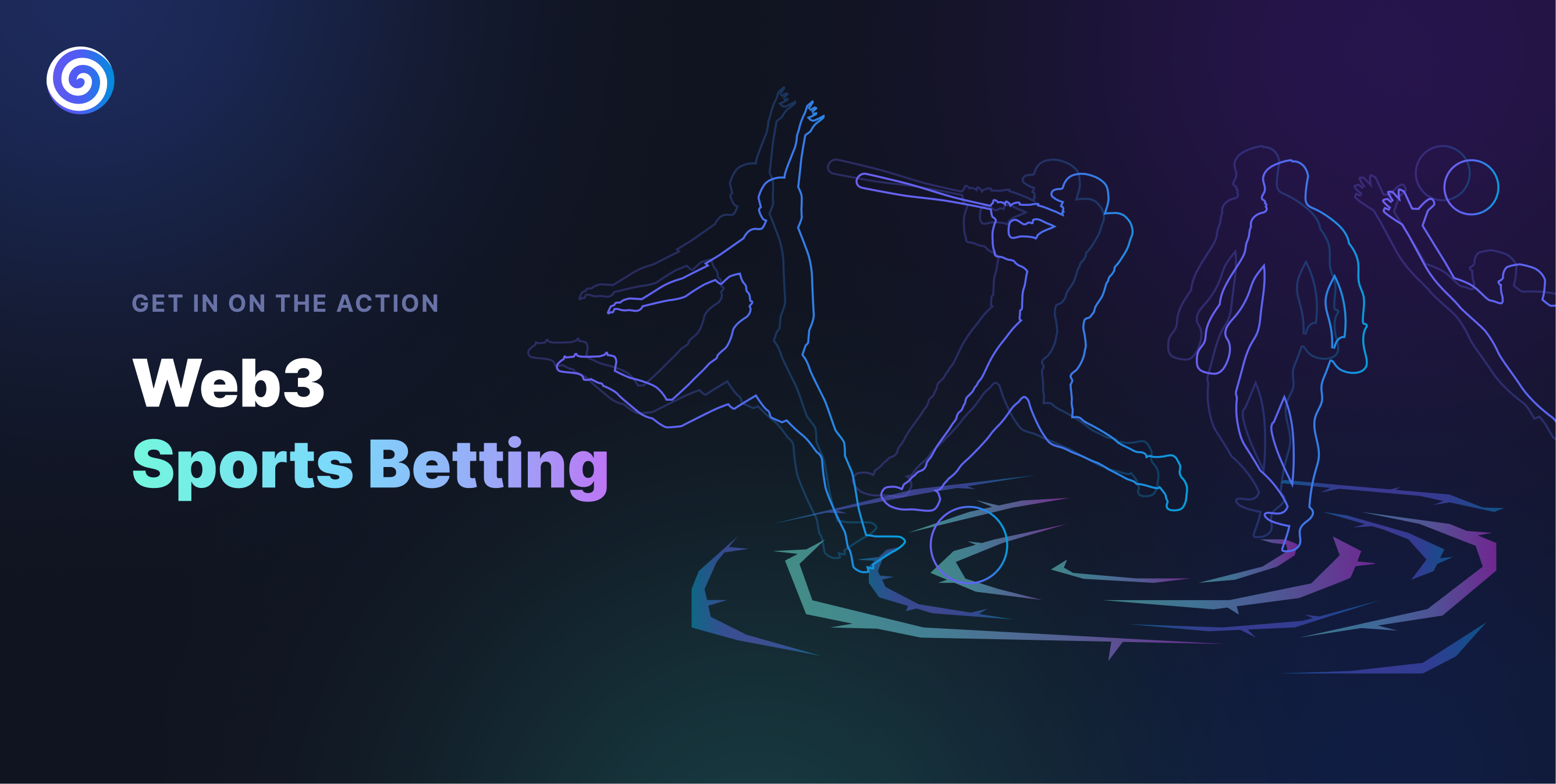 Introduction
BetSwirl's Sports Betting feature is currently available on the Polygon network.
Like the games of chance available on BetSwirl, it's transparent, trust-less, and non-custodial.
Betting
Playing modes
Single bet mode refers to a type of betting where a player places a single wager on an event or outcome.
A Combo bet or a parlay is a type of bet in which a player combines multiple individual bets into a single wager. In a Combo bet, all of the bets must win in order for the player to receive a payout.
Placing bets
Connect your wallet on Polygon
Choose the market. The market is a specific sort of game outcome: read more about it here.
Select the outcome.
Within the bet slip, input the bet amount.
If not done already on other Azuro's frontend, approve the spend allowance.
Place the bet.
Your bets
Visit the "My bets" page to see your bets states and results.
States
The different types of bet states:
Pending: the bet has been accepted and is waiting for the outcome.
Win: your bet has been won and you can redeem your winnings.
Lose: this time you missed.
Declined: There was a technical error, your bet will be refunded and needs to be redeemed.
Redeeming
You can redeem your winnings once the event is finished and resolved. To redeem the winnings from a won bet, press the "Redeem" button.
Markets and bets
How are markets structured?
Events, their outcomes, and odds are provided by independent Oracles.
All events are structured in the following way: Sport -> League -> Event -> Game -> Market -> Outcome
Sport, e.g. Football, Esport, etc.
League, e.g. "International Tournaments UEFA Nations League - Round 1"
Condition (Event): "Slovenia - Sweden"
Market: Full-time result
Outcome: 1 (Slovenia)
Odds: 1.55
If you wager $100 on 1.55 odds for Slovenia to win (Outcome 1), you will receive $155 if Slovenia wins.
You will lose your initial stake ($100) if Sweden wins (Outcome 2).
How are bets represented on the chain?
Oracles create events on Azuro and provide initial odds. Liquidity Providers transfer funds into liquidity pools by way of the "Azuro Liquidity Tree" design and receive compensation for the facilitation of bets.
To place a bet, you call an AzuroLP contract and send tokens from your wallet to the liquidity pool. In exchange, you will receive an NFT as evidence of your bet.
Winning participants get funds from Azuro's liquidity pools as a multiplier of their initial wager on the odds. Lost bets are deposited into the liquidity pools for future payments.
Can bets be rejected or cancelled?
Betting on BetSwirl is permissionless.
Events (games), markets (the bets that are possible connected to a particular event), odds and resolving market outcomes are settled at the protocol level (see Azuro Protocol). BetSwirl has no control over this and therefore individual bets can never be rejected or canceled.
In the rare and unlikey events that some events/markets may be canceled - bets are voided and this affects everyone who has participated in this market on BetSwirl or any other apps using Azuro Protocol. The initial bets made can be refunded/redeemed from the liquidity pool on the "My bets" page.
Examples where such occurrences may be possible are if the event was cancelled, the market data was wrong (e.g. event started earlier than the on-chain data for this event suggests, thus allowing bettors to take bets after event is finished), or the results are disputed or unreliable.
Oracle, Odds and slippage
Oracle
Odds
Slippage
On Azuro, the slippage is related to the change in odds while executing the bet: the difference between quoted odds and executed odds.
A bettor will normally have some extremely minor/negligible slippage (fractions of a percent).
It is possible to adjust the "Odds slippage tolerance" in the settings tab of the bet slip. This way if there happens to be slippage above your preference - the transaction(bet) will not go through.
Powered by Azuro
BetSwirl acts as an Azuro front-end operator/affiliate and earns 60% of the profit.
Revenue sharing model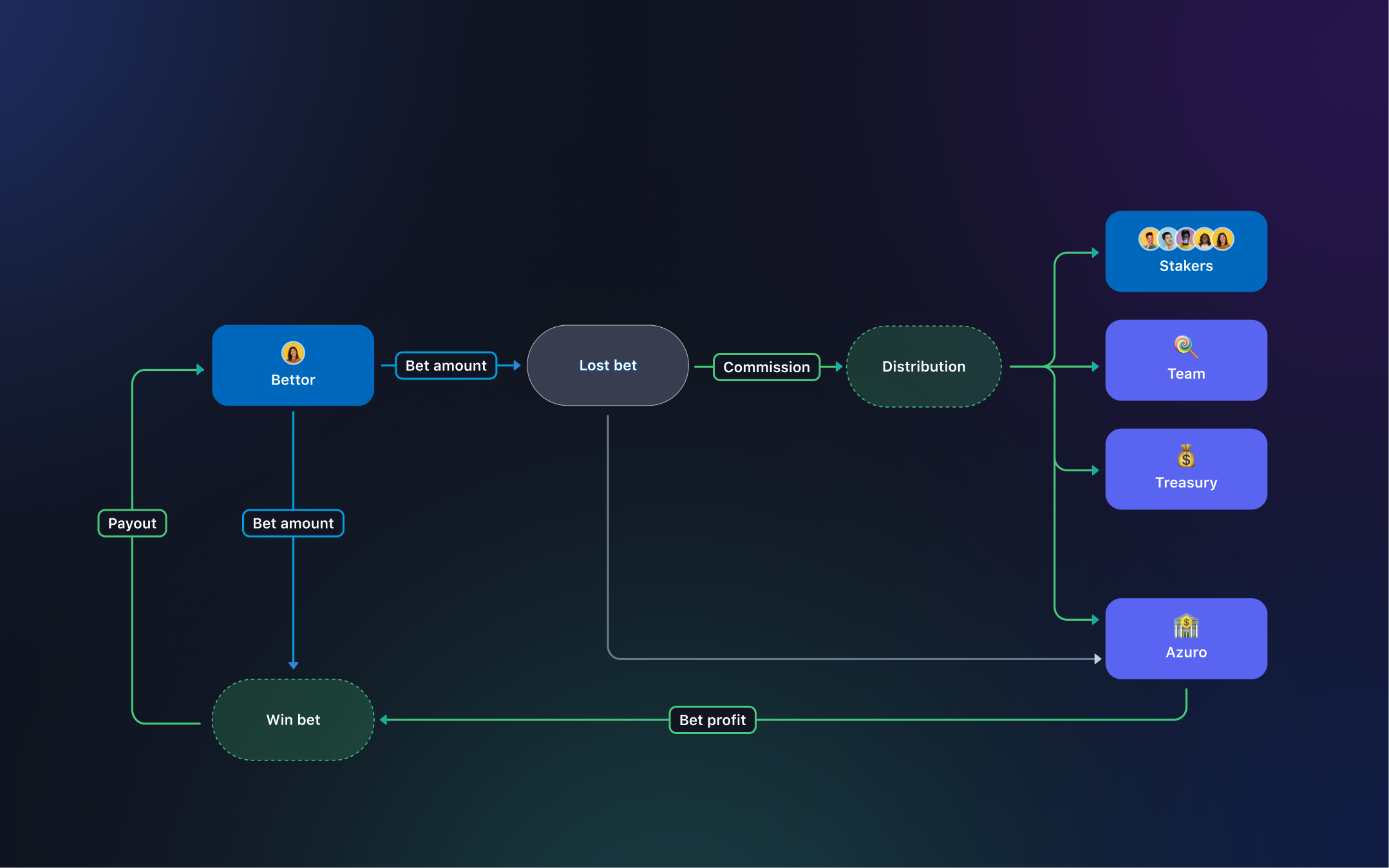 Azuro Score
All bets placed on BetSwirl earns you Azuro Score. Azuro Score points will be convertible into $AZUR tokens after the $AZUR token is launched.
The Azuro Score program is not managed by BetSwirl. For up-to-date details and to check your score visit azuro.org/score.